Magnetic Roof Hats and Supplies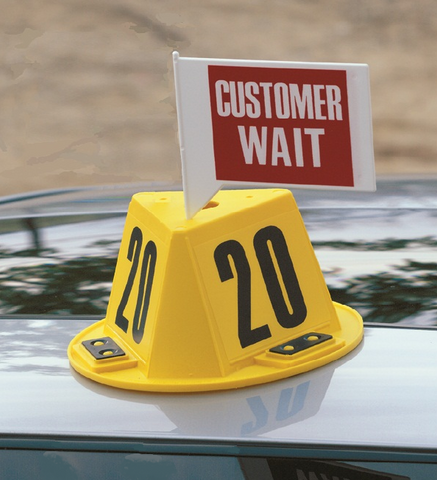 Magnetic roof hats from US Auto Supplies are part of a complete system that help provide your auto repair operation an easy way for mechanics to understand important factors about the customer cars in for service, and are available with or without magnets.  Beyond that these magnetic car top hats produce an organized identification process from start to finish, for each customer car and truck in for service.  Your auto repair mechanic and technicians pick up the car key paddle with the customer car keys attached and that paddle has a corresponding ID number printed on it that matches to the car top hat on the customers vehicle out on the lot. When service technician reaches the vehicle there will be a plastic hanger clipped to the rear view mirror with the new repair work order hanging from the clip.
Magnetic roof hats are available with several different decal messages, such as, Waiting for Parts, SOLD, WASH, No Brakes or even a customize-able dry erase option. In addition to their easy-to-read nature and bright, attention-drawing colors, car topper hats firmly secure to the roof or hood when purchased with shielded magnet option.