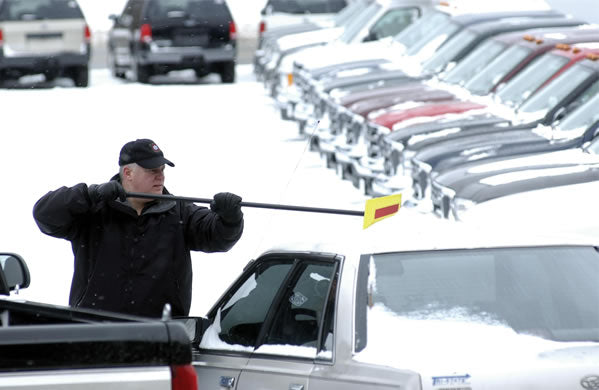 The seasons have moved forward on us again and with this latest march, Winter with it's soon to arrive, snow, sleet and slush will be here before we know it. The latest Weather Channel Wind Chill Map shows this all to well..... The REAL question: Is Your Dealership ready with the supplies it needs?  Whether the need is for snow brooms and brushes or a more heavy duty type waffle paper floor mat or even extreme weather windshield paint markers for your on-the-car advertising, now is the time to check your dealership supplies.  US Auto Supplies has these winter items ready to go with a large supply of the  coated back waffle paper floor mats on SALE and ready to ship!  Windshield paint marker advertising may not be something Dealers think much about as winter approaches but maintaining your outdoor advertising throughout the cold and snow season, is a key part of selling vehicles throughout the year.  US Auto Supplies has two specific heavy duty windshield paint marker options of Uni-Paint Oil Based Markers in six colors and the Solid Marker Grease Style Pens in eleven colors. Both of these style of windshield paint markers work great for the harsh winter season months, as well as throughout the entire year.  They are extremely durable and will require rubbing alcohol and a blade scraper to remove.  That is exactly what your windshield advertising needs, so that the inevitable snow brooms  that when used carefully will not damage or remove the design work used to create the windshield promotions.   These markers also work great on showroom windows to create all sorts of Happy Holidays and Winter Season messages for your customers!
As always, the Holiday Season Giant Vinyl Bows are a great addition this year's Happy Holidays message bows take decorating a notch bit higher.... :) 
From US Auto Supplies - Welcome to the upcoming Winter Season!