Multi Point Inspection Checklists And Worksheets - Items tagged as "172-point inspection"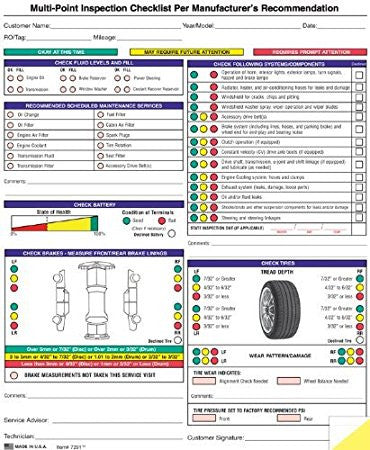 Multi point inspection checklist forms and repair estimate worksheets are perfect for all types of routine auto service checkup maintenance, as well as in-depth vehicle repairs that might be needed.  These type of inspection and vehicle check-up forms work great at brand name auto dealerships as well as all independent auto repair shops.  US Auto Supplies has a wide array of these multi-point vehicle inspection forms, repair checklists and service repair estimate worksheets, to best suit your car and truck service repair needs.  Automotive inspection sheets tie hand in hand with mechanic flag sheets and repair work order forms.
US Auto Supplies is here to help, so if you have questions about which form might best fit your inspection service repair operation please feel free to call or email us with any questions.