Vehicle Deal Jackets - Items tagged as "Heavy duty envelope"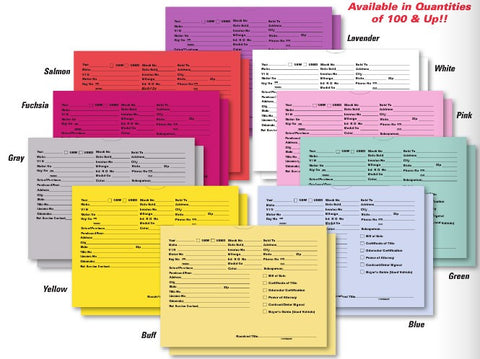 Vehicle deal jackets, often times referred to as
 car dealer record envelopes are essential in helping to keep your dealership processing the sales deal paperwork consistent among the sales team and organized for the office staff.  The auto deal jackets store all the 
car sales paperwork
 records and all pertinent details related to the cars and trucks sold at the dealership.  US Auto Supplies carries a really wide selection of these automotive deal jacket and dealer record envelopes to help best fit your operation requirements.  Several colors and styles are available.  Once complete, these sales deal folders head to the
dealership office
for processing and copies of all important forms are then placed into
vehicle document folders
and given to customers for long term safe keeping.
Vehicle deal jackets checklists generally contain all the necessary paperwork and information needed to make the car sales process both consistent and legal but for those dealerships that need more specific information, custom deal jackets are available.